WUSPBA  Circle of Honor
The Western United States Circle of Honor was established to recognize individuals who have contributed significantly to the Association and to the strength and growth of piping and drumming in the Western United States.
By bestowing Life Membership, the Western United States Pipe Band Association has formally recognized the following individuals as having shown outstanding dedication in promoting and encouraging education in the culture and advancement of piping, drumming, drum majoring, and pipe band music in the United States.
(In alphabetical order.)

Stuart Baker – WUSPBA President 2004-2005

Calvin and Chrissy Biggar
Calvin Biggar learned piping as a boy scout in San Francisco and swept the local amateur contests.  At 17 he joined the Caledonian Pipe Band of San Francisco.  An uncle took him to Vancouver B.C. to hone his competitive skills in the local piping scene while attending the University of British Columbia. The war broke out and he decided to join the Canadian Seaforth Army.   While stationed in Edinburgh, Calvin met and married Chrissy.  He planned to finish his education in Vancouver and settle in San Francisco after the war.   After completing his BA in Chemistry at UBC, he returned to S.F. where he rejoined the Caledonian Pipe Band, serving as P/M.
In 1959, he and piping students Stan Patterson and Chuck Banker started the Lockheed Pipe Band.  After a few years of successful competition, he, Stan and a few others, formed an alliance with key members of the Southern California piping scene.
During the Caledonian Club Games of 1963, this combined group met in a small Santa Rosa motel room and hammered out the bylaws and contest rules for the Pacific Coast Pipe Band Association.
The records should indicate the actual offices that the founders held, but Cal's son John remembers his dad doing many years of work as General Secretary and mum laboriously typing on those paper stencils that were used on a hand-cranked mimeograph machine while their son inhaled the alcohol fumes just like he did in first grade!
They moved to Southern California in 1968 and Cal joined the L.A. Scots under PM Jimmy Thompson.
For the next ten years or so, annual general meetings were held up and down the state before settling in Morrow Bay. These AGMs saw the association create, rescind, and refine the rules that were debated passionately, to the point of fisticuffs, and then celebrated with hours of congenial adult beverages.
After tweaking the rules for so many years at the Golden Tee in Morro Bay, the Association must have hit a flat spot, as dad commented once that we should just stop having AGMs as everything had been invented and it was running smoothly. Nobody had considered the "Instructor Rule".
Calvin was a quiet, pensive man who always thought before he spoke, and never had negative things to say about people.   He brought a wealth of experience to the new association before 1963 and the same amount after.  The Association was a conduit for him to fulfill his passion for the instrument, the music and the culture.
He expired at the age of 79 from prostate cancer, but the doctors always said "thanks to piping, his heart and lungs were strong as a 40 year old."
When Cal wanted to retire from his association duties after 20 years as the General Secretary, mum stepped in and was elected to replace him.   Because of her knowledge of the rules and her predilection for enforcing them, she was the ideal Association Rep as she sat there in the Red Barn at Santa Rosa pouring over the score sheets and refusing to give anyone the results until they were announced, not even her son!  Every PM knew Chrissy, and she was feared, loved and respected by them all.
She slipped away 2 years ago, at the age of 89, but even in the onset of her dementia, she would ask John what was going on with the Association.

John Biggar – WUSPBA President 2010-2012, long time games organizer, son of Calvin & Christina Biggar, WUSPBA General Secretaries

Kevin Blandford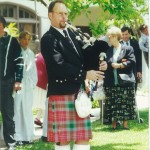 Kevin Blandford became interested in playing the bagpipes in 1976-early 1977. That's when his father, Paul, reports that Kevin was able to locate a practice chanter, which he played "all the time" around the house, and which he took with him wherever he went. Shortly thereafter a set of bagpipes came into the picture. Of course not knowing anything about the instrument, according to Paul, they were Pakistani pipes.
As time went on, Kevin found an instructor who steered him to R.G. Hardie Co., and a set of Scottish pipes were ordered. Kevin joined a local band, The Gordon Greys, and got a lot of band experience.  That group disbanded early 1980s.
Kevin was instructing several students by this time at the store and at Upland High School, and Kevin was able to form a new band in 1986. Named after the store, R.P. Blandford & Son, this band grew rapidly to where there was an 'A' band and a 'B' band, with Paul as band manager and Kevin's mother, Madelyn, as "band mother."
Both bands did quite well in competitions.
At his passing late in 2003, Kevin was in charge of both bands, being Pipe Major of the 'A' band.  His loss was sad, but the contributions that he made to piping live on.

Catherine Cameron

Donald Cameron

Margaret Craig – Long time Games Organizer, Executive Secretary (partial-1995)

Tom Foley – Drumming Adjudicator, WUSPBA Newsletter Editor

Helen and Tim Gladden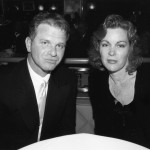 Helen and Tim Gladden began piping and drumming as kids.  Helen grew up on the west coast playing solos and in bands as a member of the WUSPBA.  Tim grew up on the east coast and was a member of the EUSPBA.  They met and married in 1983 and settled on the west coast after spending several years in Europe.
They both taught music locally and from their students assembled a group of players that would comprise what would become the corps of several different bands over the years, culminating in a second-place finish in Grade II at the World Pipe Band Championships in Scotland in 1999.
They each participated in the WUSBA holding several roles in it over the years, most significantly as adjudicators and serving on the Advisory Committee.  On that committee, they helped move the WUSPBA from an organization that was concerned solely with bands to one which encompassed solos as well, and they helped to write the first set of rules adopted by the association for use in governing the various aspects of solo competition.  They both felt and continue to feel that a well organized and even-handed promotion of solo competition in the west is vital for the continued success of the WUSPBA and pipe bands in general.
In 1998, Tim was elected president and Helen took over the publishing of the WUSPBA Newsletter. They retired from active participation in 2002, but can be seen, occasionally, among the crowd of spectators at various competitions in California.

Kathleen Nicholson Graham
Kathleen was the original Pipe Major and founder of the Nicholson Pipes and Drums that is based in Westminster, California. For the past 30 years she dedicated her life to teaching the bagpipes and forming this award-winning band to honor her father and family name.
Kathleen was born in Vancouver, British Columbia, Canada on June 8, 1927 and was the first of three daughters born to Pipe Major Malcolm and Elsie Nicholson.  She began highland dancing lessons at age two and a half.  By the time she was four she was learning the bagpipes from her father, Malcolm Nicholson, who was a police sergeant and the Pipe Major of the Vancouver Police Pipe Band.  By age five she was acclaimed to be the youngest piper in Canada to win the silver cup from the Gaelic Society for her skill on the bagpipes.  At that time she had already won 11 medals for highland dancing.  Through her teen years she won many aggregate awards at numerous piping competitions.  One of the contests she competed in and won was highlighted by the two well known judges from Scotland, William Ross and John Burgess.
Kathleen had not limited herself to piping and dancing.  At age 12 she won a five year Art Scholarship given by the Vancouver school board.  At age 17 she received a silver medal from the Toronto Conservatory Music in Ontario, Canada, for the highest marks for her singing exam.  She won numerous prizes at Gaelic festivals for both Gaelic singing and recitation.  Kathleen then joined the Vancouver Ladies Pipe Band in 1938 and then joined the Glengary Girls Pipe Band in 1942.
During World War ll Kathleen and her sisters toured and performed at Canadian Military camps and in USO shows.  She also toured with the AB Marcus Production Company throughout the United States of America and appeared on Broadway and New York television shows.  In one of her routines she actually played the pipes while highland dancing.  She was also a dance instructor the Arthur Murray Studios in New York.
She married and moved from New York to Seattle Washington where she established a large highland dancing school and was part of the Seattle Highland Games Committee.  While in Seattle she and her husband adopted their only child, Malcolm, and when he was two years old they divorced.  She and Malcolm moved back to Vancouver, Canada and she began working at the Vancouver Police Department.  While there she opened and ran a successful music and dance school that focused on the highland arts, modern dance, and ballet.
In 1966 Kathleen and relocated to Santa Monica, California.  Malcolm acted as her sponsor and she became a naturalized US citizen and she remarried shortly after that.  Kathleen's varied work experience began as an executive secretary, but she had an eye for decorating and earned an accredited Illuminating Engineering certificate from the University of British Columbia which lead her into a consulting job for an LA lighting company.  She had designed numerous residential and commercial properties in LA, trail blazing the industry with the use of theatrical lighting in the commercial and residential markets.  One notable design she was proud of was the Disneyland Hotel where she designed the lighting for the hotel lobby in the late 1960's.  Finally, her versatility in the job market is capped off by her working for the Los Angeles and Beverly Hill Police Departments as a clerk and a woman's jailer.
While moving from job to job and raising a son in Southern California she started teaching the bagpipes in Santa Monica, CA. One day she was approached by a couple of her adult students to start a band, which she initially declined as there was no capital available and she did not want the commitment of managing a band.  She was ultimately convinced and formed the Nicholson Pipes and Drums in 1981 when the two students that had earlier approached her put up the seed money to start the band and her son Malcolm agreed to help with the drum section.  Kathleen taught many individuals and some were notable actors like Rick Jason from the 60's Classic TV Show COMBAT and David Huffman who appeared in the Clint Eastwood movie Fire Fox.  She moved to Garden Grove where she was a member of the Crystal Cathedral Choir and continued to teach bagpipes.  One of her bagpipe career highlights was when one of her adult students gave her a piping gig referral of a lifetime. Kathleen was asked to audition and got the final call to play Amazing Grace for Spock's funeral scene in the Star Trek movie classic, The Wrath of Kahn.  She did the recording at Paramount Studios with a full live orchestra on the sound studio, which was a thrill of a lifetime.
Kathleen moved back to Vancouver in the mid-1980s to care for her father until he passed away in the mid-90s, and then she returned once again to Orange County to teach another generation of young and adult pipers.  The Nicholson Pipe Band's longevity surprised her and she was very proud of all the accomplishments the band had made such as playing for the introduction of the Tiger Shark aircraft at Northrop; the 1984 LA Olympics; the Inaugural festivities in Orange County for President Reagan; the EXPO 86 in Vancouver, BC, Canada as well as supporting Southern California's law enforcement and the Marines at Camp Pendleton, California.
Finally, the band was given the honor of being named the official band of the Clan McNicol / Nicholson.  In 1996 she organized a band trip to go to the Isle of Skye to perform and participate at the dedication of the the clan Kirk'n (church). The band has produced two acclaimed CD's and will always be a positive living memorial for Kathleen as her former student, Pipe Major Robert Hackney and her son, Drum Sergeant Malcolm Willis will carry on this band's positive winning legacy.

Chris Hossack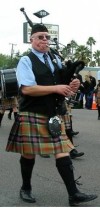 Chris started his piping career when he was 12 years old with the Ingersoll Pipe Band, at that time a Grade 2 band in Ingersoll, Ontario, Canada.  He moved to Phoenix, Arizona, in 1963 when he was 15, and played for several years with a local band.  He says he didn't play much during his college, law school days, and early legal career, but started playing again in the late 1970s.
In 1980 he formed the Mesa Caledonian Pipe Band and has been the band's Pipe Major since then.
Mesa Caledonian Pipe Band has been successful throughout the years and grown from its original four members to a membership of some 50 pipers, drummers, drum majors and students.  Most of these musicians have been taught through the band and Chris has taught most of its current pipers.  The band has fielded competition units in both Grade 3 and Grade 4 throughout its history, and currently competes in Grade 3.  Under Chris' leadership, MCPB has competed four times at the World Pipe Band Championships in Glasgow and has placed in the top 10 in its grade three times.  While in Scotland, MCPB played in concert at Stirling Castle, and for the Lord Provost of Glasgow.
Chris has served as WUSPBA President on two different occasions and also on what has become the WUSPBA Music Board and on the WUSPBA Adjudication Panel.  He represented WUSPBA at ANAPBA in its early years, when grading and competitions rules were somewhat standardized across North America.
Chris graduated from Arizona State University, both undergraduate and law school.  He is a trial attorney, practicing in the area of construction law, and specializing in representing design professionals.  He has been married for 45 years with two children and four grandchildren. He has lived in Mesa, Arizona for the last 43 years.

Jim Laughton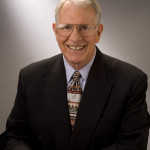 Jim Laughton observes that he is the lone surviving Founding Member of the Sierra Highlanders Pipe Band, which was organized in 1961. He was pipe major of the band for several years.
Jim was active in the WUSPBA as treasurer (1994-1998). During this time, he was part of the team that initiated a solo registration and tracking system, bringing increased attention to solo as well as band. He organized the WUSPBA Championships held in Reno, in the mid-1990s, and was a founding member of the alliance of North American Pipe Band Associations, along with Jeff Mann and Susan Thornton.
As a Founding Member of Celtic Celebration, Inc., in Reno in 1991, Jim initiated current solo contests held in conjunction with the area's Celtic Celebration.
Jim also incorporated and served as Pipe Major of Reno and District Pipe Band in 2004. Today he is proud to act as financial advisor to current WUSPBA President Jeff Mann

Scott MacDonald
Scott MacDonald has held every position within the WUSPBA with the exception of Treasurer, including Music Board Chair. Among his contributions to piping and the Associations, Scott has:
Judged several competitions in North America.
Co- launched WUSPBA's Words and Music with Tom Foley
Moved the AGM to Vegas during his time as WUSPBA Secretary
Has successfully run the top WUSPBA band for the past 22 years, the Los Angeles Scots Pipe Band
Lead the Grade 2 L.A. Scots to the World Championship in 1997 in Glasgow. This was a first for an American Band.The Band is now considered one of the Premier top 15 bands in the World.
The L.A. Scots have represented WUSPBA in Scotland for the past 20 years at the World Pipe Band Championships.
Scott has been a successful Instructor of pipers and bands for more than 35 years.
He has run the Queen Mary games for more than 20 years.

Roddy Mackay – Long time Organizer of the Monterey (Calif.) Games, Drum Major

Janet MacLean
Janet MacLean, born in Canada, began snare drumming as a young woman with the Toronto Girls Pipe Band. In the 1960s, she emmigrated to California and joined the Highland Society Pipe Band, which later became the Los Angeles Police Pipe Band. The last band in which she played was Misty Isle Pipe Band.
Janet was a very dedicated member of any band she ever played in, and always carried extra uniform parts in case someone had forgotten theirs. She served the WUSPBA by sending out forms to participants in WUSPBA-sanctioned competitions.

Jeff Mann – ANAPBA founder, WUSPBA administrator for over 17 years.

John Massie

James "Jimmy" McColl – Piping Adjudicator, Gold Medalist Piper

Bill Merriman – Piping Adjudicator, WUSPBA Vice President 1993-1994

Andrew Morrill – WUSPBA President 2006-2009

Ozzie Reid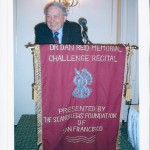 Ozzie Reid enlisted in the American Army to serve in the Army pipe band; with this service came citizenship. As he points out, the alternative was to be drafted. He played with the L.A. Scots from 1960 to 1968, then took over as Pipe Major of the Lockheed Pipe Band in 1968, a position he held until retirement in 2012 The band was later renamed Dunvegan when the U.S. Government disbanded all the employee clubs in tax issues with Lockheed.
Ozzie founded the Peninsula HG under the auspices of Clan Stewart where we (games) originated the use of the clock in the pipeband contests. It worked and found its way into the rule book of the WUSPBA. He helped organize Long's Peak Festival, which imported two Grade 1 bands (one from Canada and one from Great Britain), which played as structured, time limit medley. He was co-chair with Pipe Major William Merriman of the Caledonia Club of San Francisco Games at Santa Rosa.
Ozzie was  chair of the Pacific Coast Pipe Band Association from 1977 to 1981, then became general secretary of the WUSPBA for 10 years, from 1988 to 1992.  He did a great deal to promote piping in the Intermountain Branch especially, traveling to Colorado for a number of years to conduct piping workshops.
Ozzie says his proudest accomplishment is The Dr. Dan Reid Memorial. This was an invitational featuring the top soloists in the work playing from tune lists submitted to the soloists for their selections. They then played tunes selected by the Committee. We recorded the recitals and issued a CD each year. The contest survived from 1992 to 2012.

Charlie Rosenberger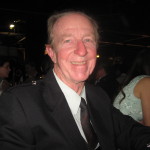 Charlie Rosenberger grew up hearing his father and grandfather playing the pipes. His father, John Rosenberger, began teaching Charlie to play the pipes at the age of seven. He won his first medal in novice piping at the age of nine and was moved to the amateur level when he was ten. He became the Pipe Major of the Cameron Cadets, a juvenile band shortly thereafter. Charlie had a very successful competitive career, garnering dozens of medals and trophies throughout California and Arizona, including the coveted James McColl trophy for Ceol Mor at the USS games in Santa Monica. During that time period he also received instruction from the late Capt. John A. MacClellan MBE.
Charlie began giving private lessons when he was 15 and at 16 became the Sergeant piper for the Cameron Highlanders Pipe Band, the band that his father founded in 1946. At 17, Charlie was hired to be the instructor for the Helix High School pipe band where he taught for seven years. During his years as a piping teacher, he has had over 200 students, dozens of them prize winners and several have gone on to form their own pipe bands and teach more people to play the pipes.
He became the Jr. Pipe Major of the Cameron's when he was 19 and also at 19 he moved to Open/Professional class and continued individual competition until his duties as Pipe Major of the competition band began to demand more time. The Cameron's, then an "A" band, did well under Charlie's leadership being among the prize winners at most of their competitions and winning best pipe corps at the Caledonian Club Games at Santa Rosa at one point.
Charlie was placed on the Judges panel of the PCPBA, later to be WUSPBA, in 1974 and has been on the A or the B list since that time. In 1976, Charlie took a leave of absence from the Cameron's and competition to pursue his career as a professional traveling musician however he played the 1979 and 80 season with the Culloden Moor Pipe Band.
Charlie returned to the Cameron's in 1982 and has been the Pipe Major since that time. The band has only missed one competition season during that time period and is perennially on the winners list.
Charlie served on the WUSPBA music board for three years and is currently on the newly formed MDAP committee.

Lee Ruleman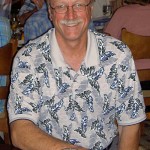 Lee Ruleman, known to everyone in the pipe band world as "Skip," was president of WUSPBA's Intermountain Branch for many years. He was also a dedicated side drummer with the City of Denver Pipe Band and then with Denver & District Pipe Band. Skip proudly served his country as a Marine in Vietnam. Unfortunately, during that war he experienced damage to his lungs that troubled him for many years. Nevertheless, he bravely continued drumming as long as he was able. Friends in the Intermountain branch were saddened when Skip passed away in 2011. Skip's wife, Tricia, was unable to be here today, but this plaque will be sent to her in his memory.

Susan Thornton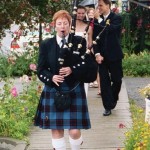 Susan Thornton began piping in 1983, when she was inspired by a visit from Sir James Morrison-Low, who was trained at the Castle in Edinburgh and had come for a visit with his bagpipes. At the time there were very few pipers – especially female pipers – in Colorado.
By 1984, Susan was piping with the St. Andrew Pipes & Drums, then with the Colorado Isle of Mull Pipes & Drums. Today she teaches piping and competes with Denver & District Pipe Band.
Susan was on the city council and Mayor of the City of Littleton from 1986-2003. During that very busy time, she also chaired the Intermountain Branch for four years (1990-1994), followed by four years as chair of the Western U.S. Pipe Band Association (1994-1997), overseeing the registration and tracking of solo pipers and drummers for the first time. She was co-founder with Jeff Mann and Jim Laughton of the Alliance of North American Pipe Band Associations in 1999, and was vice chair of that organization for two years.
The office of WUSPBA Past President carries an automatic Life Membership.